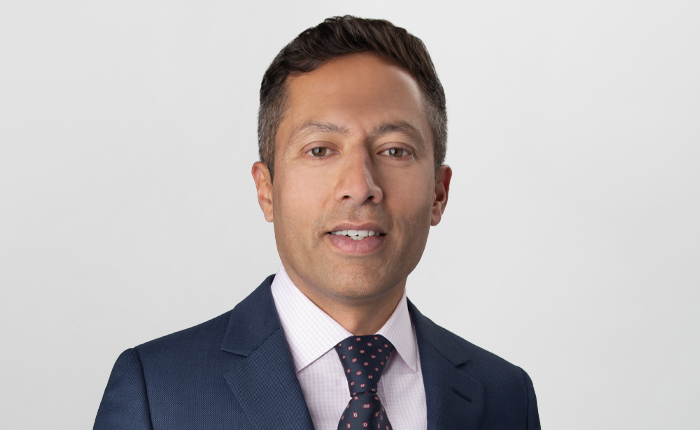 Partner Arun Sharma specializes in economic analyses of the healthcare and life sciences industries, where he has provided expert testimony and consulting services to outside counsel, industry clients, and government agencies. Here Arun shares his thoughts about learning the industry inside-out, how he has capitalized on that knowledge in recent testimony, and what kinds of cases he sees developing.
Q. You have a reputation of knowing the industry inside out. How has that happened?
A. For the most part, my understanding and expertise in the healthcare and life sciences industries has come through years of hands-on experience working on matters in these areas. One thing I came to appreciate early on was that understanding the healthcare industry framework and the complex web of interactions among all the entities was essential in expert analysis. Healthcare markets are large and complex, involving almost a fifth of the economy and many different players, often with competing incentives and limited transparency. Add to this the stream of decisions coming from regulators and policy makers. It's tough to keep up, but that's what makes it so satisfying—because constant critical thinking is required to stay on top of that market understanding.
Another thing I came to appreciate was the importance of deep knowledge and experience with different healthcare data. Take healthcare claims data as an example: economists don't study claims data much in school but learn the details when they start working with that data. I started working with claims data in the Out-of-Network "UCR" Rates Litigation more than 12 years ago. All the details and nuances of claims data that I've learned are important because knowledge of healthcare data carries over from case to case and helps you to address the particular issue and the particular claims data you are trying to analyze.
The same thing applies to other healthcare databases as well—actual experience working with these data has allowed me to identify and analyze the relevant data to answer the economic questions at hand in a broad range of cases, including reimbursement dispute cases, class cases, and antitrust cases. Over the years, I have analyzed other healthcare databases such as hospital discharge data, diagnosis and treatment approval data, hospital and health plan quality data, and enrollment and membership data. On the life sciences side, I have analyzed prescription and switching data, wholesaler and manufacturer data, indications and formulary data, and so forth.
Q. You have been retained as an expert in several cases involving reimbursement disputes between health plans and providers. What are important considerations in such cases?
A. An unusual aspect of healthcare markets is that the consumers usually don't pay for healthcare services directly. They often only make a small copayment, not the full cost of the services provided by the doctor or the hospital (the "providers"). After a patient visit, the health plan will reimburse the provider for services rendered. Reimbursement rates are generally negotiated and agreed upon ahead of time. However, sometimes a patient ends up visiting a provider who has not agreed on a rate for their services with the health plan. In those instances, disputes can arise about the appropriate reimbursement level among various parties involved in the transaction.
Healthcare reimbursements depend upon a number of factors, including the type of service provided and location where the service was provided. Naturally, reimbursement for knee replacement will be different than reimbursement for an MRI. Similarly, reimbursements in New York will be different than in Oklahoma. In addition, reimbursement could depend on the type of facility in which the service was provided and on the type of provider or type of health plan. Economists have to take into account all these factors to analyze the disputed reimbursements. Often, it comes down to identifying the right comparisons after controlling for the relevant market and institutional factors. Actually, last year I submitted multiple expert reports on behalf of a health plan in a federal litigation matter in the Southern District of Florida that included this kind of analyses.
Q. How did your first testifying experience change how you think about your work?
A. My first case as the testifying expert involved commercial success analysis in an intellectual property dispute. I had conducted commercial success analysis on a number of matters previously in a supporting role. So I was well versed in the analytical methods, and preparing the expert report was a familiar exercise as well. But I noticed a new level of awareness about all aspects of the report, now that I had complete ownership of the analyses and the opinions. Offering deposition testimony was also a new experience for me. Obviously, the opposing attorney tried to challenge my analysis, but I quite enjoyed the process of explaining and defending my work. One thing that jumped out at me was how everything actually slows down when you are carefully listening to the questions and trying to give accurate answers.
Q. How does your deep understanding of the industry help when it comes to antitrust matters in the healthcare and life sciences industries?
A. At a high level, antitrust analysis in healthcare and life sciences is no different than in other industries. You have to analyze standard topics like market definition, market power, and competitive effects. However, the particular analytical frameworks and the tools you use are specific to the industry and even the issue at hand.
For example, in hospital merger cases, the analytical framework and tools are the "two-stage competition" model and hospital choice modeling. Another example would be evaluating market definition in the pharmaceutical industry: one cannot just look at the drugs used and prices paid by patients. Insured patients don't generally pay for the drugs directly, and the choice of drugs involves physicians, payors, and other decision makers. But you can evaluate other data and information such as formulary data where payors prioritize some drugs over others based on discounts and rebates. So a deep understanding of the industry framework helps identify and analyze the key data and information for antitrust analysis as well.
Q. What's tricky for attorneys who deal with government investigations of the pharmaceutical industry?
A. One engagement that I recently worked on involved an investigation of pricing strategies. The government sought detailed transaction-level data on sales and prices from a pharmaceutical company. That might be a fairly straightforward exercise in some industries, but not in the pharmaceutical industry because of the number of entities involved in the actual distribution and payment for drugs. Pharmaceutical products and the payments might go through wholesalers, retail pharmacies, various purchasing coalitions, hospitals and medical facilities, health plans, pharmacy benefit managers (PBMs), and so forth. Transactions among these different entities are captured in different databases and reflect different prices, discounts, and rebates. To get the complete picture of the pharmaceutical sales and prices, one has to piece together all these transactions reflected in different databases. This is important because looking at prices for intermediate transactions will not reflect the final price accurately. In this engagement, I was able to provide that because of my deep industry knowledge.
Q. Finally, what kinds of trends are you seeing?
A. I'm seeing more class cases brought on behalf of beneficiaries—for instance, a couple in the context of ERISA. In In re EpiPen, plaintiffs alleged that PBMs breached their fiduciary duties in violation of ERISA by not passing on the rebates that the PBMs had negotiated from the manufacturer to the users. I worked on behalf of one of the PBMs to evaluate the economic issues associated with class certification. Understanding the contracts between the PBMs and the plan sponsors, like employer groups, as well as the rebate data, was an important part of the analysis. Another recent case involved a putative class of health plan beneficiaries who were allegedly denied certain treatments based on allegedly flawed medical necessity criteria.
The industry is starting to see a trend of beneficiary class plaintiffs bringing similar cases related to treatment decisions against various health plans. Interestingly, providers are also bringing cases against health plans regarding coverage for certain treatments, allegedly in violation of antitrust statutes.