Summary
Kathryn Luker specializes in leading teams that analyze large, complex data sets on issues associated with class certification, liability, causation, and damages. Her expertise includes applying economic analyses in False Claims Act (FCA), Employee Retirement Income Security Act (ERISA), antitrust, and Chapter 11 bankruptcy matters. These cases often require analysis of claims data and internal company databases, such as prescription, sales, product performance, and billing data. She works with counsel through all stages of litigation, including trials, government investigations, and settlement discussions.
Education
BS, Economics, The George Washington University
SPOTLIGHT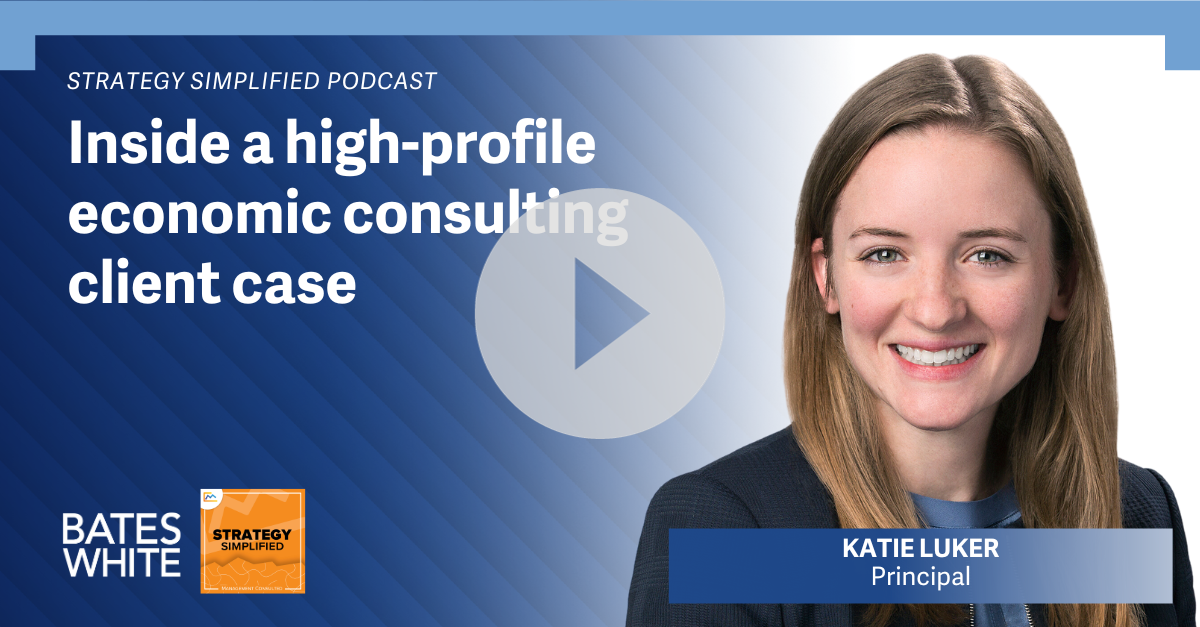 Ms. Luker was interviewed on an episode of Management Consulted's Strategy Simplified podcast about her experience working on a high-profile client case. Listen to the episode to learn about her day-to-day work, what economic consulting really is, what Bates White's culture is like, and more.
Selected Work
Selected Experience
In In re Teva Securities Litigation, managed support of expert team on antitrust issues associated with alleged misrepresentations regarding the sources of Teva's profits and the competitiveness of markets for generic drugs.
In In Sake TN, LLC and Seanache Homes, Inc. v. Patrick Moss, IRA Innovations, LLC, Mary M. Wester led team supporting testifying expert regarding economic issues related to class certification and class-wide damages methodology in response to allegations that defendants made usurious loans and charged interest rates that exceeded the maximum effective rate allowed under Tennessee law.
In RTI Surgical, Inc. v. LifeNet Health, supported the expert in a declaration regarding commercial success as an objective indicator of patent non-obviousness on behalf of the patent owner LifeNet Health in an Inter Partes Review challenge to the validity of certain LifeNet Health patents.
Managed support of expert analyses on behalf of a pharmaceutical manufacturer in a price reporting case brought by the State of Texas. Analyzed price reporting practices and reimbursements paid by the Medicaid Vendor Drug Program (VDP) to Texas-based retail pharmacies in response to allegations that false prices were submitted to the VDP.
In United States and State of New York ex rel. Lacey v. Visiting Nurse Service of New York (VNSNY), served as lead manager supporting expert analyses of Dr. Frederic Selck on behalf of VNSNY. Developed database utilizing patient medical records and several large company data sets to gather insights on issues relating to alleged FCA violations.
Provided consulting support for a large mail-order medical supplies company alleged to have violated the FCA and Anti-Kickback Statute. Constructed and analyzed database based on internal company data pertaining to accounts receivable, claim adjudication, and patient demographics.
Provided consulting support for medical device manufacturer in a government investigation of device performance. Analyzed potential exposure using internal sales data and clinical trial event studies.
Provided consulting support for a large medical care provider alleged to have violated the FCA by failing to comply with Medicare guidance regarding the provision of certain services. Evaluated causation and potential exposure by analyzing variation in service patterns observed in large company databases and Medicare claims data sets.
In United States ex rel. George v. Fresenius Medical Care Holdings, Inc., supported expert analyses of Dr. David Bradford and Ben Scher on behalf of Fresenius Medical Care. Analyzed and maintained large databases, including inventory, prescription order, and claims data.