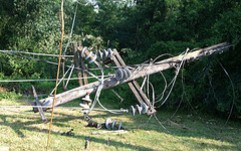 Damage from the June 2012 Derecho
Image courtesy of Arlington County, VA
Bates White Partner Nicolas Puga participates in Maryland State Governor O'Malley's Resiliency Task Force.
Energy
Bates White's Energy Practice provides expert economic services for a wide range of energy-related matters, including regulatory and public policy; litigation; project development and transaction support; market power analysis; mergers and acquisitions; market analysis, modeling, and forecasting; market design; transmission system modeling and analysis; environmental policy; valuation and due diligence; and finance. The common elements we bring to these issues are rigorous and defensible quantitative analysis, sophisticated economic modeling, a solid grounding in economic and financial theory, in-depth research, and industry experience.
Recent insight
"The electric utilities in crisis"
White House Chronicle, PBS
Interview with Nicolas Puga, MSc
"Weathering the Storm"
Commissioned by Maryland State Governor Martin O'Malley
Nicolas Puga, MSc, as part of the Resiliency Task Force
Insight
Commissioned by Martin O'Malley, Maryland State Governor

Electricity Journal

,

August 2010
Events
Mexico City, Mexico

,

November 5–6, 2014

Washington, DC

,

June 6, 2014

Mexico City, Mexico

,

May 22, 2014

Mexico City, Mexico

,

March 6, 2013 – March 7, 2013

Skytop (Poconos Mountains), PA

,

May 18, 2011 – May 20, 2011

Phoenix, AZ

,

February 20, 2011 – February 22, 2011

Minneapolis, MN

,

June 10, 2008 – June 11, 2008