Ranked the
#1 consulting internship
in 2019, our Summer Consultant Program (SCP) offers participants a robust professional, educational, and social experience. Over the course of 10 weeks, you will discover the work of a Consultant first-hand, develop valuable technical skills, give back to the community, and develop lifelong friendships with your fellow Summer Consultants and full-time colleagues.
About the program
The work
From day one, Summer Consultants are staffed to real cases and conduct case work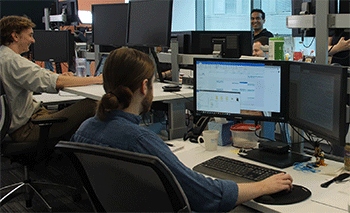 alongside full-time Consultants. We strive to provide a varied mix of qualitative and quantitative work throughout the summer to give you exposure to the full range of tasks a Consultant may take on.
Your work could include conducting industry research, reviewing deposition testimony, drafting portions of an expert report, or helping create client presentations. You'll also find yourself processing large data sets, combining data from various sources, and creating impactful data visualizations.

In a collaborative team environment, Summer Consultants work closely with full-time Consultants, project managers, and Economists to produce high-quality work products for our clients.

The case study

Because 10 weeks is typically too short a time to experience the full life-cycle of a case, you will engage in a case study with your team, allowing you to see a case from start to finish. Your team will review discovery documents and analyze your client's data and other data relevant to the case. You will work directly with an Economist to develop economic and financial models. With the guidance of a full-time Consultant, you will write an expert report and eventually present your case to firm leaders.

Based on real client engagements, this exercise will expose you to a wider variety of case work, allow you to directly apply the economic and financial concepts you've learned in school, and build relationships with Summer Consultant and full-time colleagues across the firm.

Professional development and networking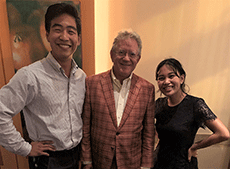 Investing in our people is a core value at Bates White, so professional development and networking opportunities are a central part of the SCP. From formal training sessions and mentorship programs to informal lunches with senior leadership, we want to help you get the most out of your 10-week SCP experience. A few professional development opportunities you can expect include: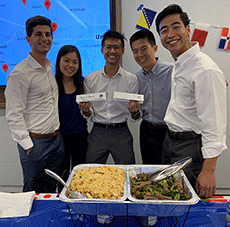 An intensive onboarding program with technical training on tools such as Stata, Excel, and R
An assigned sponsor (mentor) to provide regular feedback and career guidance
A peer coach to help you navigate the firm and feel at home from day one
Lunches with senior leadership, including Chairman Charley Bates and other founding partners
Regular practice and firmwide lunch-and-learns to gain exposure to recent cases, new tools, and industry trends


Bates White Community Connection
The Bates White Community Connection (BWCC) program is our way of giving back to the community. The BWCC program plays a key role in developing our collegial firm culture; in 2019 alone, we raised over $189,000 through 40+ fun firmwide events. Each year, our Summer Consultants organize a BWCC event of their own. Last year, they raised over $8,400 for Camp Kesem through a Balloon Wars competition. This is your opportunity to get creative and have fun, all while supporting a meaningful cause!

Social events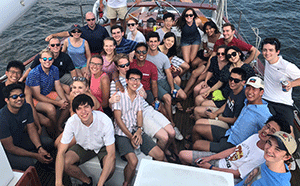 The SCP is packed with fun social events that allow you to build relationships with the other Summer Consultants and full-time employees alike. These events provide exposure to employees at different levels and in different practices throughout the firm while giving you a taste of life in DC. A few events from past years include:


Dinners at local DC restaurants with consultants, management, and senior leadership
Outings such as escape rooms, bowling, ax throwing, kayaking, and cooking classes
BBQ at a Partner's home
Nationals baseball game
Sailing on the Chesapeake Bay
Meet former Summer Consultants
Josh Clothiaux, Senior Consultant
—
BS, Economics, Engineering Science & Mechanics, Pennsylvania State University
The 10-week Summer Consultant Program (SCP) built on my collegiate experience with in-depth training programs, hands-on experiences, and volunteer opportunities. It made it easy to seamlessly transition from college to the workplace. The SCP also enabled me to build relationships with peers and firm management. There were lots of ways for Summer Consultants to explore the Washington, DC area, including a sailing trip, a Nationals baseball game, and a barbecue. Bates White also sponsors interest groups for employees to pursue their passions outside of work. I joined the basketball group that played games weekly, and I rode with the cycling group before work in the morning. Both groups allowed me to build relationships with other Consultants, as well as with firm management. The SCP functioned as a conduit between college and the workforce, while providing me with enrichment opportunities to develop both professionally and personally.



Marisa Swab, Manager—BA, Economics and Psychology, University of Virginia
As a Summer Consultant, I had the opportunity to learn about a variety of different industries and contribute meaningfully to multiple cases. The SCP enabled me to develop qualitative and quantitative analytical skills, critical-thinking skills, and the ability to communicate findings effectively and succinctly. I was integrated into Bates White quickly through the casework that provided opportunities to collaborate with coworkers of all tenures—from Consultant IIs to Principals—and through the many program events that resulted in friendships with the other full-time Consultants and fellow Summer Consultants. Returning to Bates White was a simple decision because the program gave me first-hand experience of what work as a full-time employee would entail. My transition to my first full-time job has been smooth, due to my experience as a Summer Consultant, and it has been great to return to friendly faces after an academic year away.
Join us!
Interested in joining the Summer Consultant Program? Applications are open now—
apply
today! Learn more about our application process, recruiting events, and deadlines
here
.