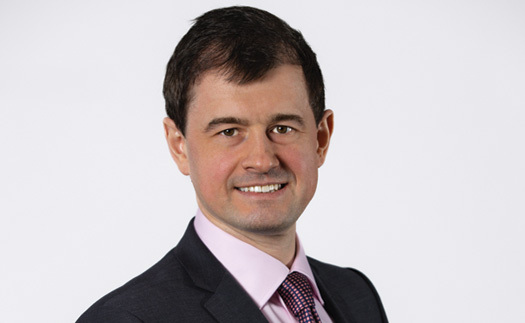 Selected Expertise
Antitrust analysis
Class certification
Damages estimation
Econometrics
Employment discrimination
Market power
Mergers and acquisitions
Monopolization
Price-fixing
Statistical analysis
Selected Industries
Airlines
Asbestos products
Food and beverage
Health insurance
Healthcare
Hospitals
Medicare and Medicaid
Pharmaceuticals
Physician groups
Retail
Slava Zayats co-heads the Healthcare Practice at Bates White. He has over a decade of experience as an economist specializing in antitrust matters involving competition, market definition, and market power, with a particular focus on the healthcare industry. He leads economic analyses and serves as an expert in numerous merger and monopolization matters, including on behalf of the Federal Trade Commission, insurers, providers, and other private entities. Many of his past engagements were complex antitrust matters that involved extensive discovery and data-intensive econometric analyses.
Dr. Zayats has also served as consulting expert to multiple state agencies, including the Massachusetts Health Policy Commission, the Massachusetts Attorney General's office, and the California Department of Justice, advising on a broad range of antitrust and healthcare issues.
In addition to his extensive healthcare experience, Dr. Zayats has also conducted economic analyses on major engagements in other industries, including airlines, retail, asbestos (product liability), smelting (lead contamination), and employment discrimination. He has been published in the Review of Economics and Statistics.
Selected Experience
On behalf of Humana in connection with its proposed merger with Aetna, co-led a Bates White team that provided support with responses to DOJ's second request, analyzed likely competitive effects and barriers to entry and exit in the sale of Medicare Advantage products, and analyzed likely competitive effects in the sale of individual health insurance on public exchanges.
Led the team that supported the expert work of Dr. Cory S. Capps on economic analysis of likely competitive effects and efficiencies in relation to Highmark Inc.'s proposed acquisition of Blue Cross of Northeastern Pennsylvania (BCNEPA). After nearly 18 months of review by the Pennsylvania Insurance Department, the proposed transaction was approved and consummated.

Served as a consulting expert to the Massachusetts Health Policy Commission (HPC), an agency created in 2012 to increase value and access in the delivery of healthcare. Advised on methodology and implementation of geographic market definition for hospital and physician services as well as provided economic analysis of likely competitive effects from proposed transactions as part of HPC's Cost and Market Impact Review (CMIR).

Co-authored a white paper that analyzed, on behalf of Dr. Oetker, the competitive effects of Dr. Oetker's proposed acquisition of McCain Foods' North American frozen pizza business. The analysis was submitted to the Competition Bureau of Canada, who cleared the acquisition without the issuance of a supplemental information request.

Served as a consulting expert to the Massachusetts Attorney General's office. Provided input into and feedback on the attorney general's explorations of the drivers of high healthcare costs in the State of Massachusetts.

Assisted Vermont-based Fletcher Allen Partners (FAP) in securing FTC clearance for FAP's proposed affiliation with New York-based Community Providers, Inc. (CPI). Performed analyses that demonstrated a high degree of complementarity between FAP's and CPI's service offerings and minimal head-to-head competition. After presentation using our analyses, the FTC permitted the waiting period to expire without further investigation.

In In the Matter of OSF Healthcare System and Rockford Health System, directed economic and statistical analyses to support a testifying expert assessing, on behalf of the FTC, the competitive effects of OSF Healthcare System's proposed acquisition of Rockford Health System in Rockford, Illinois. After US District Judge Frederick Kapala found the FTC had demonstrated a likelihood of success on the merits and granted the FTC's request for a preliminary injunction, the parties abandoned the merger.

In United States of America v. Blue Cross and Blue Shield of Montana, worked with a top-tier academic expert to analyze the competitive effects of the proposed transaction on behalf of the DOJ. The DOJ reached a settlement with the parties.

In In re Delta/AirTran Baggage Fee Antitrust Litigation, led economic and econometric analyses of class certification issues for two testifying experts on behalf of defendant AirTran in connection with an alleged conspiracy to reduce capacity in Atlanta and introduce a first-bag fee.

In Sheridan Healthcorp, Inc. v. AvMed Inc., supported a testifying expert on behalf of AvMed Health Plans, a Florida health insurer. Led economic analysis of market definition, market power, and competitive effects. The case settled before trial. Supported a top-tier academic expert on behalf of an ambulatory surgery center in a monopolization lawsuit that alleged illegal bundling and tying by the defendant hospital system. Defined the relevant geographic market, established the existence of the defendant's market power and anticompetitive tying and bundling. Estimated economic damages sustained by the ambulatory surgery center as a result of the defendant's exclusive contract arrangement. The case settled after the ambulatory surgery center's antitrust claims survived summary judgment.
Education
PhD, Economics, University of North Carolina at Chapel Hill
BA, Economics, Belarus State Economic University
Events
Las Vegas, NV

,

June 15, 2016