There's no better place to launch or build your career. Not only will you work on interesting projects and hone your technical skills, you'll have opportunities to give back to the community, develop lifelong friendships, and receive mentorship from industry experts. And you'll have a lot of fun along the way!
Become a Consultant
What you'll be doing
As a Consultant, you'll contribute to projects that span industries and practice areas. One day, you may be processing large data sets, creating visuals, or developing economic models; another day, you might conduct research or review testimony.
Learn about a typical day and watch videos spotlighting several Consultants.
Working side-by-side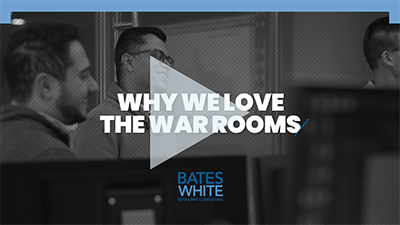 When you are assigned to a case, you'll be part of a team that includes peers, managers, and experts. Your team will most likely work in a "war room," a collaborative space with standing-desk workstations, dual monitors, and whiteboards. Working in a war room offers many benefits—you can ask questions right when they come up, it increases the team's efficiency, and it provides lots of opportunities for team building and networking across levels. And when you need a quieter environment to work independently or meet one-on-one, you'll have your own office with a door.
Employees love working in the war rooms. Watch the video to find out why.
You'll advance your skills
You will hone your data skills by learning Stata, R, Spark, Python, and more! You'll refine your writing skills as you draft memos and contribute to expert reports and other materials. And, you'll strengthen your research and critical thinking skills through your casework.
Supporting your career journey
Beginning on day one and throughout your career, you'll participate in learning opportunities—both formal and informal. A few of these include:
A multi-faceted onboarding program to set you up for success
Ongoing feedback from project managers, a dedicated mentor, and peers
A tailored Consultant Development Program that provides mentoring, training, and social opportunities
Access to online learning platforms such as LinkedIn Learning and DataCamp
Tuition reimbursement up to $50,000
Consultant career path: Consultant > Consultant II > Senior Consultant > Manager > Principal > Partner
Learn more about our commitment to our employees' career development here.
Learn more
Click here to find out about upcoming recruiting events and the interview process.