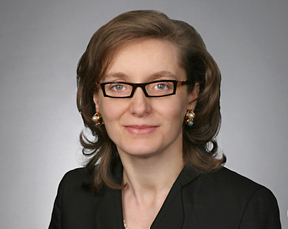 Practices
Selected Expertise
Cartels
Damages estimation
Econometrics
Fair lending and disparate impact analysis
Mergers and acquisitions
Monopolization
Selected Industries
Chemicals
Computer hardware and software
Consumer products
Finance
Food and beverage
Healthcare
Pulp and paper
Subprime lending
Telecommunications
Vitamins
Elena Bisagni has extensive experience supporting top-tier testifying experts and counsel in complex litigation involving damages assessment and alleged anticompetitive conduct. She specializes in econometric analysis.
Selected Experience
Provided support for Dr. Joseph Farrell, who submitted two declarations on behalf of Comcast in an FCC proceeding on business data services. The FCC is seeking comment on a new regulatory framework for the provision of business data services.
Led the team supporting Dr. Leslie Marx, the expert on behalf of DOJ, in its successful challenge of the proposed $34.6 billion merger of Halliburton and Baker Hughes.

In In re Urethane Antitrust Litigation, an alleged price-fixing case, supported testifying expert and directed analysis addressing causation and damages.

Led a team assessing the potential competitive effects of AT&T's proposed $48 billion acquisition of DirecTV during an extended review of the transaction by the DOJ and FCC. Analyzed competition and complementarities among broadband Internet and video programming services on behalf of AT&T. The merger was ultimately approved by both agencies.
Provided economic analysis on behalf of tire manufacturers in the UK proceedings regarding private damages claims related to the EU synthetic rubber cartel case. Supported expert Dr. Hans Friederiszick of our European partner, worked with US and UK attorneys to quantify potential damages, and supported UK barristers during the trial phase. The case was recently closed by settlement. The terms and conditions of the settlement are confidential.
Supported Dr. Michael D. Whinston with the submission of expert reports and the delivery of oral testimony at preliminary and final International Trade Commission hearings in Certain Oil Country Tubular Goods (OCTG) (701-TA-499) demonstrating the deleterious effects of unfairly traded imports of OCTG, including lower levels of investment, profitability, and employment in the domestic oil industry.
On behalf of Constellation Brands, analyzed the competitive effects of Anheuser-Busch InBev and Grupo Modelo's proposed divestiture of brewery and distribution assets to Constellation in response to Department of Justice's (DOJ) concerns about their proposed merger. Coauthored a white paper positing that the proposed divestiture resolved the concerns initially raised and would likely improve competition relative to the status quo. DOJ ultimately approved the merger, subject to the proposed divestiture package.
Supported Dr. B. Douglas Bernheim, the testifying expert on behalf of plaintiffs in the matter In re Vitamin C Antitrust Litigation. Defendants were found liable for entering into agreements with competitors to fix prices during the cartel period and were fined treble damages of $162.3 million, the full damages requested by plaintiffs. The case marks the first time that Chinese companies have faced a trial on US antitrust claims.
Supported Dr. James H. Stock, one of the testifying experts in the matter Oracle America, Inc. v. Micron Technology, Inc. Led econometric analysis, oversaw staff work in support of the expert, and provided advice to counsel in preparation for depositions. The parties reached a settlement with undisclosed terms.
Supported testifying experts on behalf of AMD in the landmark microprocessor antitrust case AMD v. Intel. Developed econometric analysis to assess the impact of Intel's alleged illegal exclusionary conduct on AMD's market shares and revenues. The parties reached a $1.25 billion settlement.
Supported testifying experts on behalf of direct and indirect plaintiffs in In re Dynamic Random Access Memory (DRAM) Antitrust Litigation. Developed a damages model used to compute overcharges and damages, and worked with damages experts and counsel in support of affirmative and rebuttal analyses and deposition testimony.
Supported Dr. B. Douglas Bernheim, the causation and damages expert, on behalf of the unsecured creditors committee of the Enron estate in Enron Creditors Recovery Corp. v. Citigroup Inc. Built econometric models to predict how and when, in the absence of the alleged accounting fraud, the credit rating agencies would likely have adjusted Enron's credit rating and assessed damages attributable to defendants' aiding and abetting a breach of fiduciary duty by company insiders. Work resulted in a $1.7 billion settlement for our client.
Supported the lead consulting expert working on behalf of a large coalition of opt-out and class plaintiffs involved in In re Vitamins Antitrust Litigation. Built analytical tools and performed econometric analysis to assess damages resulting from price-fixing of bulk vitamins. Provided trial testimony support.
Provided expert testimony in mediation on behalf of a nationwide class of purchasers of certain shipping services.
Education
PhD, Economics, University of California, San Diego
MA, Economics, George Washington University
BA, Business and Economics, University of Parma, Italy
Insight
Econometrics: Legal, Practical, and Technical Issues, 2nd ed.

,

2014