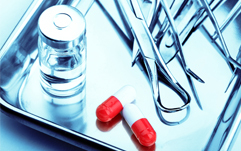 Mergers and acquisitions
Our professionals have extensive experience examining mergers and acquisitions in the healthcare industry. We regularly provide antitrust analysis and testimony on matters involving payors and providers on behalf of providers, insurance companies, interested third parties, and enforcement agencies. Our experts consult on issues such as market definition, hospital market power, and pricing. We have quantified the competitive effects of hospital, health plan, pharmaceutical, and physician group mergers.
Provided detailed analysis on behalf of McKesson Corporation in connection with its $2.1 billion acquisition of PSS World Medical Inc. The analysis, which was presented to the FTC, showed that the proposed merger of the two medical and surgical supplies distributors was unlikely to lead to any anticompetitive effects. After McKesson pulled and re-filed its HSR filing, the FTC granted early termination of the waiting period and approved the merger without issuing a second request for additional information to the parties. See the press release.
Conducted extensive economic analysis on behalf of Express Scripts in connection with its $29 billion acquisition of Medco Health Solutions. The analysis, which was presented to the Federal Trade Commission as well as state enforcement agencies, showed that adverse competitive effects were unlikely in any relevant market. Bid data were used to investigate the current structure of competition and to calibrate merger simulation models, which demonstrated there would be no unilateral incentive to increase price after accounting for anticipated efficiencies. The analysis addressed possible coordinated effects and monopsony concerns. The FTC unconditionally approved the merger after an eight-month investigation and found no likelihood of unilateral effects, coordinated effects, or exercise of monopsony power. See the case study.
In In the Matter of OSF Healthcare System, a corporation, and Rockford Health System, retained as a testifying expert on behalf of the FTC to analyze the competitive effects of OSF Healthcare System's proposed acquisition of Rockford Health System in Rockford, Illinois. Provided written, deposition, and hearing testimony. After US District Judge Frederick Kapala found the FTC had demonstrated a likelihood of success on the merits and granted the FTC's request for a preliminary injunction, the parties abandoned the merger. See the press release.
Provided analysis on behalf of Grifols in connection with its acquisition of Talecris—two companies involved in the manufacture and sale of biologic therapies derived from human plasma. Evaluated possible concerns of coordinated effects related to the merger and assessed the merger-specificity of claimed efficiencies in an analysis presented to the FTC. The FTC approved the acquisition subject to a consent decree that facilitated entry. See the case study.
Provided economic analysis of the likely competitive effects of UnitedHealth Group's proposed acquisition of XL Health, an innovative provider of Medicare Advantage plans that focus on better coordinating care for seniors with chronic conditions. Assisted counsel for UnitedHealth and XL Health in preparing analyses that highlighted the limited direct competition between the two health insurers and the broad scope for post-merger efficiencies. The arguments were presented to the DOJ, which allowed the transaction to close without a second request.
Assisted Vermont-based Fletcher Allen Partners (FAP) in securing FTC clearance for FAP's proposed affiliation with New York-based Community Providers, Inc. (CPI). Performed analyses that demonstrated a high degree of complementarity between FAP's and CPI's service offerings and minimal head-to-head competition. After presentation using our analyses, the FTC permitted the waiting period to expire without further investigation.
In the matter Omnicare v. UnitedHealth, provided expert testimony for UnitedHealth to assess damages in a lawsuit alleging that pre-merger coordination led to the joint exercise of monopsony power. Performed econometric analysis to simulate but-for pricing and estimate total damages for a range of but-for scenarios. Analysis concluded that pre-merger coordination did not have a significant impact. United Health was granted summary judgment on all claims. See the case study.