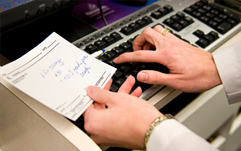 Alabama Supreme Court ruling validates Eric Gaier's testimony regarding pharmaceutical pricing
The Alabama Supreme Court recently overturned three jury verdicts totaling nearly $275 million against pharmaceutical manufacturers AstraZeneca, GlaxoSmithKline, and Novartis Pharmaceuticals Corporation. The ruling cites many arguments presented by Dr. Eric Gaier, who provided deposition testimony on behalf of all three defendants and testified at trial on behalf of AstraZeneca.
Fraud and false claims
Allegations of injury to consumers, private insurers, and governmental entities such as Medicare and Medicaid arising from false claims, Civil RICO, and other deceptive practices often require careful economic analyses to establish or refute liability, causation, and damages. We support clients with such analyses in connection with complex civil litigation—including class action, parens patriae, and qui tam lawsuits—and governmental investigations. Our professionals support clients in connection with alleged False Claims Act and other fraud violations stemming from alleged kickbacks, off-label marketing, and noncompliance with state and federal statutes. We also provide our clients with policy recommendations and coordinate with them to present these recommendations directly to regulators.
Provided written, deposition, and trial expert testimony on behalf of a number of pharmaceutical manufacturers in expansive federal and state multidistrict Average Wholesale Price Litigation, in which public and private insurers allege that they overpaid for prescription pharmaceuticals as a result of inflated prices published by manufacturers. Representative cases include:

In In re Pharmaceutical Industry Average Wholesale Price Litigation, served as a testifying expert on issues of common impact, feasible damage methodologies, and merits on behalf of a joint defense group of leading pharmaceutical manufacturers in a RICO/civil fraud matter. Submitted written, deposition, and trial testimony.
InState of Alabama v. AstraZeneca LP, served as a testifying expert on liability, causation, and damages on behalf of a joint defense group of leading pharmaceutical manufacturers defending allegations of fraudulent pricing. Submitted deposition and trial testimony.
InUnited States v. Dey, Inc., provided written and deposition testimony focusing on reimbursement for inhalable pharmaceutical products and the manner through which reimbursement is affected by policy decisions made by state Medicaid agencies and Medicare. Submitted written report and deposition testimony.
In The State of Texas ex rel. Ven-A-Care of the Florida Keys, Inc. v. Mylan Inc., served as a testifying expert on behalf of a leading generic pharmaceutical manufacturer defending allegations that it submitted false prices to the Texas Medicaid Vendor Drug Program. Submitted written report and deposition testimony.

Serving as a testifying expert on behalf of a health insurance company defending allegations that it misled and injured class members by setting false, artificially low reimbursement rates. Analyzing the economics of payor-provider markets to determine whether reimbursement rates would have been different absent the alleged fraud. Examining massive health insurance claims data to evaluate whether the allegedly false reimbursement rates impacted class members commonly.
Evaluating issues of liability and damages on behalf of a pharmaceutical manufacturer alleged to have violated the Anti-Kickback Statute and false claims act laws. Analyzing drug manufacturing and administration practices, pharmaceutical pricing, and patterns of claims submitted by pharmacies and medical providers to State Medicaid programs and Medicare.
In Applied Medical v. Ethicon Endo-Surgery, on behalf of Applied Medical, investigated economic issues associated with the Court's consideration of injunctive relief concerning allegations of false advertising in markets for laparoscopic medical devices. Analyses focused on the impact of the challenged conduct on surgeon preferences and hospital procurements. Supported testifying expert's report, deposition testimony, and preparation for trial.
Computed damages arising from lost sales of a major antiviral pharmaceutical product. The dispute alleged breach of contract, specifically through the failure to provide adequate marketing and promotional support. Our work involved development of but-for scenarios, modeling of demand for antiviral pharmaceuticals, forecasting lost sales under hypothetical market outcomes, and preparation of an expert report.