Search insight
Search by
Insight by year
The Economics of Collusion
Robert C. Marshall and Leslie M. Marx
April 2012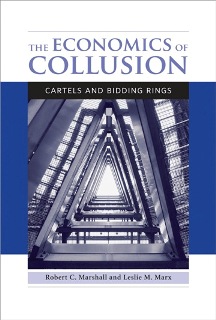 Book summary
To view a six-minute summary of the book, please click here
Webinar
On May 1, Drs. Marshall and Marx hosted a webinar on detecting cartels and collusive behavior, which drew on many of the experiences and lessons outlined in their book. To find out more about the webinar, please click here.
Book reviews
John Asker, Associate Professor of Economics, New York University Stern School of Business, in Concurrences No. 2-2013
Donald C. Klawiter, Partner, Shepherd Mullin, Richter & Hampton, Washington, DC.
This review was first published in Competition Law International, Vol 9 No 1, April 2013, and is reproduced by kind permission of the International Bar Association, London, UK. © International Bar Association.
John J. Siegfried, Professor Emeritus at Vanderbilt University, in Journal of Economic Literature, December 2012
William E. Kovacic, Professor of Law at The George Washington University, in Antitrust Source, December 2012
William E. Kovacic, Professor of Law at The George Washington University, in Antitrust & Competition Policy Blog, August 23, 2012
Caron Beaton-Wells, Associate Professor at Melbourne Law School, in Antitrust & Competition Policy Blog, August 9, 2012
Excerpt from book published in the August/September edition of The European Financial Review
Request a copy
If you are interested in obtaining a copy of the book, please email Claudine Hoover