Laura Hillstrom, MS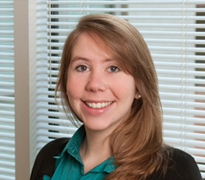 My colleagues are intelligent, interesting, and motivated.
A professor of mine once told me that happiness is wanting to go to work in the morning and wanting to go home at night. I was very fortunate to find a job at Bates White where I look forward to going to work each morning. While the work that I do is interesting, it is the people that make it truly enjoyable.

My colleagues are some of the most intelligent, interesting, and motivated people I have ever met. Because of our collaborative environment, I appreciate everyone's talents without feeling competitive. I work with people with whom I know I can depend on to accomplish our work.

I came to Bates White as a Summer Consultant and then joined full-time after graduating from college. I work with people from diverse backgrounds— undergraduates, PhDs, lawyers, and other academics. There are people from across the world with interests in everything from building computers, to public policy, to finding new kale soup recipes, to cheering for the Capitals hockey team.

The friendships I have made at Bates White have extended outside the office. I am on a basketball and Frisbee team with my Bates White colleagues. We periodically go to happy hours and enjoy lunch outside when the weather is nice. We even train together to run 10Ks and triathlons.

Bates White is a place that invests in its people, and as a result the people invest in Bates White and each other.
Education
BS, Economics, The Pennsylvania State University
MS, Statistics, George Washington University